Students hone athletic and academic skills using school's new climbing wall
By KIM INGALLS
For the Tribune
Returning from Christmas break, Maple Grove Elementary students found something new in their gym – an eight-foot climbing wall.
Installed by the school's maintenance department while the kids were off of school, the wall has become quite a hit with students.
"The rock wall is really fun," said first grader Kendalyn Russell, 7, who was waiting patiently for her turn on the wall. "We get to climb over to the side and have fun."
Unlike the typical climbing surface where participants climb vertically up a wall, the Maple Grove wall is a transverse one meaning the students climb side to side so they are never more than a few feet off the ground.
Staff at Maple Grove thought the wall would be good for children, because it helps strengthen coordination, endurance and even problem solving capabilities. They just lacked the funding options to purchase one. But, thanks to the grant-writing skills of a former staff member, Maple Grove was able to buy the rock-climbing wall.
"Kim Ringler, former physical education teacher for South Haven wrote a grant and approached Maple Grove teachers about the idea of using the money from the Youth Advisory Committee grants and Light up the Night funds for a rock-climbing wall for Maple Grove," explained Kindergarten teacher Heather Chalupa. "YAC loved the grant idea so much and the benefits that as a team they funded the rock-climbing wall."
Besides the physical rewards, transversing the panel requires some brain power too.
"Teachers are personally able to use the wall for educational purposes," Chalupa said. "The wall came with a large set of plans and magnetic letters, words, numbers to use across the curriculum. I've personally taken my class down to practice letters, sight words, numbers and math problems."
Combining learning with something fun seems to be a win-win situation for both teachers and students.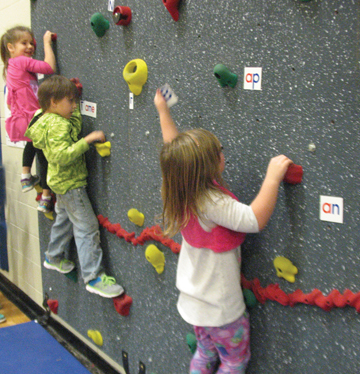 "It's really fun learning to move around it and having to make words," said first grader Riley Consilino, 6.
Others found that maneuvering along the wall helped them to develop confidence.
"It's fun because when I first saw it I thought I'd fall off," said Shane Tewell, 7, "but the more I climbed it, I got the hang of it and didn't fall off."