As fundraising for the Splash Pad Matching Fund is coming to an end, the Greater South Haven Area Community Foundation gives one last call for donations. To help with funding for the city's latest family-focused attraction, The Foundation has launched the "Twenty-five Reasons to Give $25" Donation Drive. The funds raised will be added to the Splash Pad Matching Fund and used to assist the City of South Haven with the public funding portion requested by the Michigan Natural Resources Trust Fund Grant. The Foundation will match all public donations to the Splash Pad Matching Fund, up to $25,000 towards the $50,000 project goal.
"The city has worked hard to get grant funding for the splash pad. Though the project is built, we still need to raise as much funding as possible to meet the granter's request. We want to do our part to help raise money for the project's public funding portion," says Jim Marcoux, Executive Director. "We are encouraging those who have enjoyed the splash pad this summer to consider donating to our $25 donation drive. It's the quickest way to turn $25 into $50 and support a project that provides our community with a safe, family-friendly activity." Fraternal financial firm, Modern Woodmen of America has chosen the Splash Pad as its local charity this quarter and will also be matching donations from its members. Local members are encouraged to donate to triple their donations.
The Splash Pad Matching Fund was launched last fall and quickly raised nearly a third of the funding committed. However, due to COVID, fundraising efforts were muted to focus on other community priorities. In April, the Foundation, in partnership with Southwest Michigan Cares, launched the Emergency Response Fund, raising over $60,000 for local organizations that support basic human needs. "Now that the Emergency Response Fund has gained momentum, we are again focusing on our commitment to assisting the city with Splash Padfunding," says Foundation Vice President, Roger Beglin. "We're over halfway to our goal but need all hands on deck this last month to get as close as possible". The Splash Pad Matching Fund and $25 Donation Drive will conclude on October 31,2020.
Donations to the $25 Donation Drive can be made online at www.southhavencf.org or by sending to Greater South Haven Area Community Foundation, P.O. Box 507, South Haven, MI 49090. Please note Splash Pad Matching Fund. More information can be found at www.southhavencf.org. Follow along with the Foundation's 25 Reasons to Give $25 on Facebook, Instagram and LinkedIn to learn why they are giving $25,000 to the Splash Pad Matching Fund.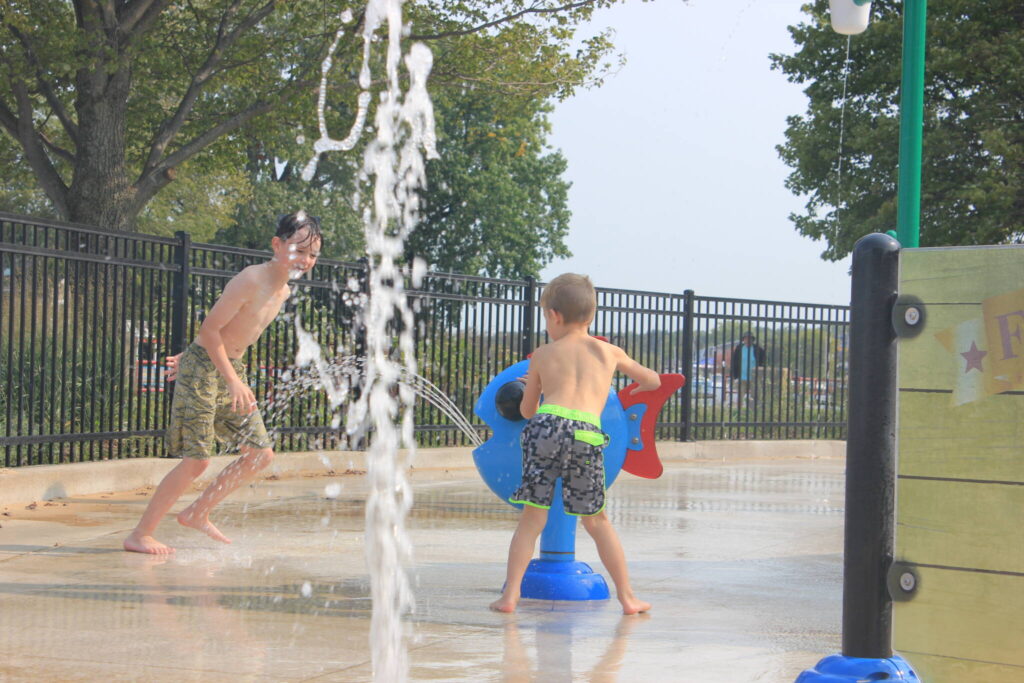 Photo: South Haven residents Drake Henrickson, 9 and Declan Moore, 6 savor the last days of summer last week at the South Haven Splash Pad. Photo by S. Loafman